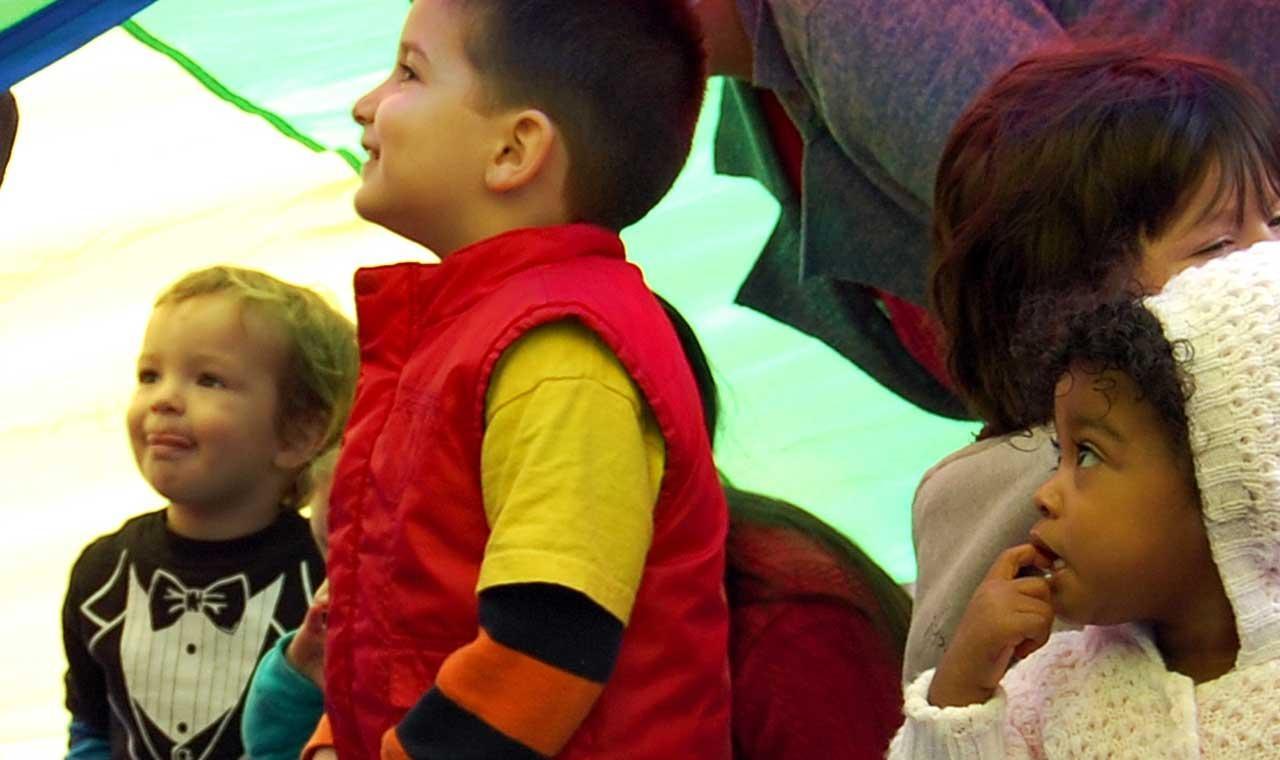 Professional Learning
KLRN offers free professional development opportunities for teachers in San Antonio. We know educators need access to high-quality training and resource materials to be empowered and prepared. Fill out this form to request Free Training for your campus.
Thanks to Valero Energy Corporation and Firstmark Credit Union for their support of KLRN teacher resources.
---
The Healthy Kids Project
At KLRN, we believe that an adult who understands the importance of making healthy life choices raises young children who are healthy.
KLRN presents a workshop for early childhood teachers as we examine components of nutritious snacks and meals, the benefits of physical activity, and healthy caregiving practices. Attendees earn four free training hours. To learn more, email training@klrn.org.
---
KLRN PBS KIDS EdCamp
KLRN, with national partners PBS and Edcamp, will create opportunities for early-childhood teachers to engage in peer-to-peer learning.
We will use Edcamp's "unconference" professional development model, in which teachers lead their own learning experiences. Through this innovative effort, we will bring together teachers in the local San Antonio community to elevate their voices and empower them professionally.
PBS Edcamps are free to attendees, ensuring that all local educators have access to them. To learn more, email: training@klrn.org or call (210) 208-8444.
---
Webinar and training videos
There is no certificate available for watching these videos; they are strictly for informational purposes. Please reach out to us at education@klrn.org to schedule a training for your school or center. Thank you so much.
Early Childhood Educator Social Emotional Development Training (2 hours)
Early childhood educators will learn about the definition of social emotional well-being, build strategies to support social emotional competencies in the classroom and review social emotional support integrated in PBS programming.
Healthy Kids Training for Educators (2 hours)
This is a training session for educators of children between the ages of 0-9 years. The Healthy Kids project explores how to help children make healthy food choices and provides ideas for offering food to children who may be reluctant to try new foods. The project offers bilingual videos, lessons, and activities. Additionally, it covers healthy recipe ideas and the importance of physical activity in children, and what that looks like at each age and stage.
Healthy Kids Project for Parents (30 minutes)
Are you a parent of a child or children between the ages of 0-9 year? Would you like to learn more about helping your children make healthy choices about food and exercise? The Healthy Kids Project offers videos, activities, and lesson plans in English and Spanish that can be used at school and at home. In this recording, we discuss how to utilize The Healthy Kids Project resources at home with your family.
PBS LearningMedia How-To Training (1 hour)
Are you looking for resources to learn from home? PBS Learning Media is a free site offering over 33,000 educational resources. In this recording, teachers, students, and families will learn how to create a free account and how to navigate PBS Learning Media to access excellent educational resources, including videos, lesson plans, interactive lessons, and more!
PBS Resources for Students with Limited Internet Access (1 hour)
Many families have limited or no internet access. In this webinar recording, we discuss how to find ways to reach students with limited or no internet access by aligning PBS shows with educational activities and lessons that can be done at home.
Technology Training in Early-Childhood Classrooms (2 hours)
Learn how to integrate technology into early-childhood classrooms, why it is so important to teach children to use technology as a valuable educational tool, and benefits of the meaningful use of technology with young children. We also explore the variety of engaging PBS resources that are free of charge and readily available on television, online, and on PBS Kids Apps.
Watt Watchers Earth Day 2020 Training (1 hour)
Explore how to use the Watt Watchers of Texas Website. Watt Watchers is a free, Texas standards-aligned smart energy education program focused on responsible use and conservation of resources. The program is divided into the topics of electricity, water, materials, cooling and heating, transportation, and food. Watt Watchers offers more than 100 TEKS-aligned activities for Kindergarten-12th grade. The entire website is available in both English and Spanish.
Watt Watchers Energy Conservation at Home (30 minutes)
Learn how to use the Watt Watchers of Texas smart energy education program at home. These engaging activities, which require only a few common household items (or none at all) are geared for children of all ages and cover topics including math, science, language arts and social studies. The entire Watt Watchers of Texas Website is available in both English and Spanish.
KLRN is PBS. No one else does what we do.
We get kids ready to learn and we give you opportunities to explore the world around you. We are America's largest classroom, we turn your living room into the nation's largest stage for the arts, and we provide a trusted window to the world—and have for over 50 years. Spend some time with us.
Memorials & Tributes
Your contribution to the KLRN Endowment Fund, Inc., either in memory of a loved one or in honor of a special friend or occasion, is a perpetual gift that will help provide for the future of KLRN public television for generations to come. The principle remains untouched, and only a small percentage of earnings on the principle is distributed to the station.
To make a gift, contact Lauren Esquivel at lesquivel@klrn.org or call her at (210) 208-8446. You may also call the station at (210) 270-9000 and ask for Lauren.