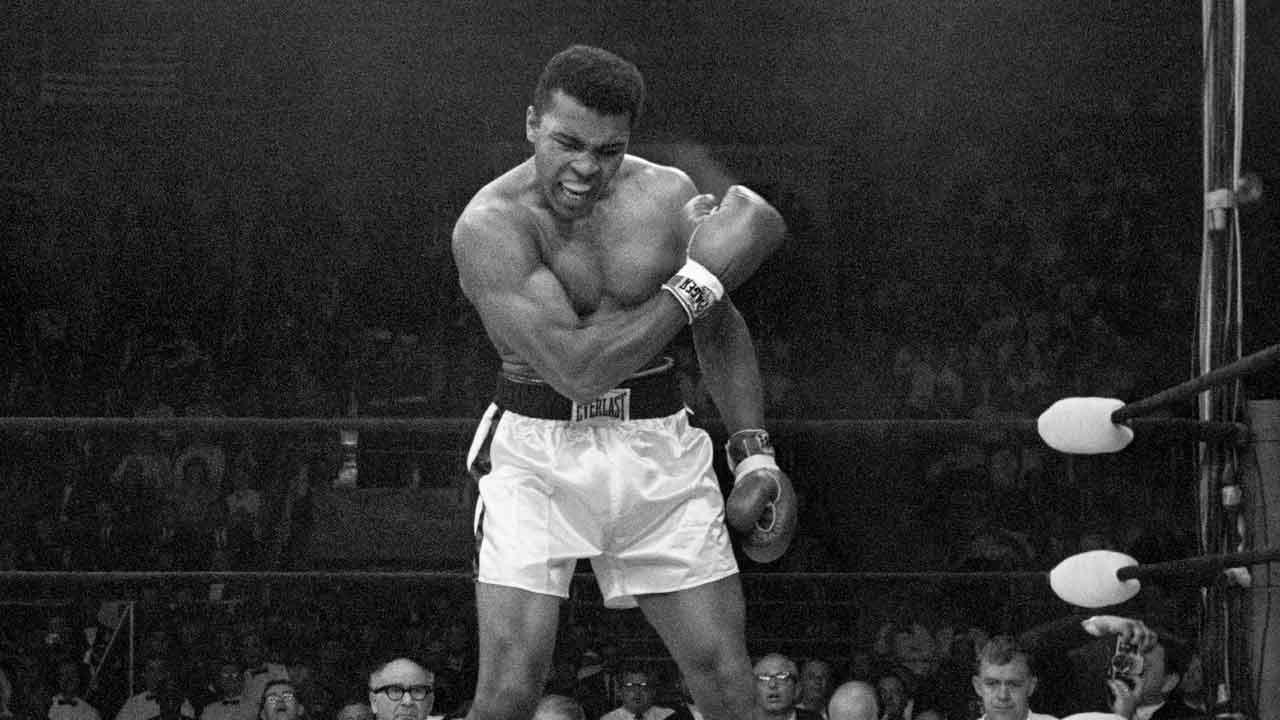 Muhammad Ali
Muhammad Ali is a four-part, eight-hour series directed by Ken Burns that brings to life one of the most indelible figures of the 20th century. Ali was a three-time heavyweight boxing champion who captivated millions of fans across the world with his mesmerizing combination of speed, grace and power in the ring, and charm and playful boasting outside of it. Ali insisted on being himself unconditionally and became a global icon and inspiration to people everywhere.
Muhammad Ali - A Look Ahead
Behind the Scenes | Making Muhammad Ali
8 p.m. Friday, Jan. 28, 2022: The Greatest (1942-1964)
Boxer Cassius Clay rises up the amateur ranks to win gold at the 1960 Olympics. He turns professional, sharpening his boxing skills and honing his genius for self-promotion. In 1964, he upsets Sonny Liston to become heavyweight champion.
8 p.m. Friday, Feb. 4, 2022: What's My Name? (1964-1970)
Cassius Clay publicly joins the Nation of Islam and takes the name Muhammad Ali. When he refuses induction into the U.S. Army, he is stripped of his title and forced into exile. After three years, he returns to the ring, but he's lost a step.
8 p.m. Friday, Feb. 11, 2022: The Rivalry (1970-1974)
Muhammad Ali battles his fiercest rival, Joe Frazier, and the U.S. government, as he attempts to regain the heavyweight title. He first loses to and then defeats Frazier, but to become champion again, he will have to beat George Foreman.
8 p.m. Friday, Feb. 18, 2022: The Spell Remains (1974-2016)
Muhammad Ali shocks the world by defeating George Foreman, winning back the heavyweight title and becoming the most famous man on earth. After retiring in 1981, he travels the world spreading his Islamic faith, and becomes a symbol of peace and hope.
Corporate funding for Muhammad Ali was provided by Bank of America. Major funding was provided by David M. Rubenstein.
Major funding was also provided by The Arthur Vining Davis Foundations, the Corporation for Public Broadcasting, and by The Better Angels Society and by its members Alan and Marcia Docter; Mr. and Mrs. Paul Tudor Jones; The Fullerton Family Charitable Fund; Gilchrist and Amy Berg; The Brooke Brown Barzun Philanthropic Foundation, The Owsley Brown III Philanthropic Foundation and The Augusta Brown Holland Philanthropic Foundation; Perry and Donna Golkin; John and Leslie McQuown; John and Catherine Debs; Fred and Donna Seigel; Susan and John Wieland; Stuart and Joanna Brown; Diane and Hal Brierley; Fiddlehead Fund; Rocco and Debby Landesman; McCloskey Family Charitable Trust; Mauree Jane and Mark Perry; and Donna and Richard Strong.
And by viewers like you.
KLRN is PBS. No one else does what we do.
We get kids ready to learn and we give you opportunities to explore the world around you. We are America's largest classroom, we turn your living room into the nation's largest stage for the arts, and we provide a trusted window to the world—and have for over 50 years. Spend some time with us.
Memorials & Tributes
Your contribution to the KLRN Endowment Fund, Inc., either in memory of a loved one or in honor of a special friend or occasion, is a perpetual gift that will help provide for the future of KLRN public television for generations to come. The principle remains untouched, and only a small percentage of earnings on the principle is distributed to the station.
To make a gift, contact Lauren Esquivel at lesquivel@klrn.org or call her at (210) 208-8446. You may also call the station at (210) 270-9000 and ask for Lauren.